BRASS RAJAH – RE350
From: MID LIFE CYCLES
Brass Rajah has many inspirations, including Royal Enfield's own 1930s Isle of Man TT-entered 350 racers. Thirties-style inspiration also came from the BMW R5 "Hommage" tribute bike and the striking UK-built Hollis Type A. And there are elements of our own BMW R60/2, a customer's much-admired BSA 350 single and of course that whole school of motorcycle design, the Bobber.
With Brass Rajah, we've built a bike that emphasises the design strengths of Royal Enfield's Classic range, centred on that upright, sculpted and somehow timeless single-cylinder engine. We took a brand new Royal Enfield Classic 350, sat it on the workshop floor, walked around it a few times, then started pulling bits off it.
There's so much to like about the RE Classic series as a base for a custom build. From the headlight nacelle through the line of the frame to the sprung seat, it looks right. But it also looks ready for more.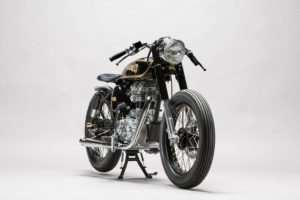 Staring at the engine sitting high in the rolling frame, the first challenge was to visually lower and physically lengthen the profile of the bike. This was achieved by two critical features of this build and a myriad of lesser but challenging details. The most significant structural change to achieve the desired lines was lengthening the swingarm by 7.5cm (3"). This was done by Andrew Hallam of Hallam Racing and it's a work of art and engineering integrity.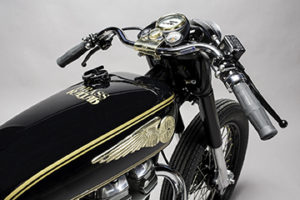 THE SECOND CRITICAL FEATURE FOR THIS BUILD WAS THE FUEL TANK.
The standard Royal Enfield Classic tank is nicely-shaped in side profile, but our build required a longer, leaner, lower tank. We tried several possibilities, including some lying on the workshop shelves. None quite worked until we found a replica 1930s Norton tank. With the build deadline shortening, it wasn't till the box arrived and we sat the tank on the frame that we knew we had our solution. Project 350 lived!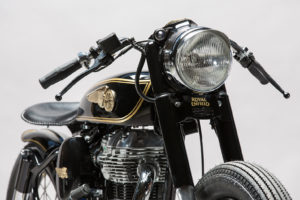 By this time, we had specified and sourced many parts including the BSA-style rear shocks that perfectly complemented the standard Royal Enfield shrouded front forks and we had stripped, powder-coated and rebuilt the wheels (with brass nipples on the stainless spokes). As one of the brands we stock, the Shinko Tyres were an obvious choice to support the Thirties-Bobber look, the 270 Super Classic and 240 Classic gave us exactly the look we were chasing. The deep-dish leather seat was another no-brainer, as we'd already fitted the same seat to several customer Classic 350s and 500s, but this time we wanted to dispense with the standard springs beneath the seat. We made up a temporary supporting frame, then commissioned Paul Moneta of Fabwell to work his magic on a seat mount that in finished form causes the seat to float above the frame, suspended by an arch of steel that follows the curve of the rear guard.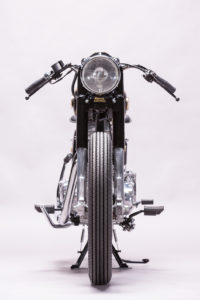 Paul also designed and fabricated the semi-hidden supports for that curvaceous, tyre-hugging rear guard – which was another crucial element to the build. This custom guard had to be carefully stretched and re-radiused to follow the profile of the re-laced 19" wheel (from a Royal Enfield Bullet 500). Credit for that painstaking task goes to Andrew, a master craftsman from our local TAFE.
Building a custom bike requires two things – a unifying central theme that defines the build and keeps it pure to the intent; and hundreds of decisions about details.
From early on, we had wanted some of those detailed parts to be in brass to pay tribute to those early bikes and builders and to evoke the Thirties Art Deco era. From the torpedo-shaped turn signals and extravagant wing-nut on the brass brake rod through to the brass-rimmed custom speedo, we've achieved our aim (and discarded a lot more brass bling than we actually fitted).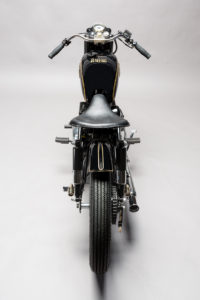 But the final piece in the Brass Rajah puzzle again required a firm decision – we asked Glen Stevens to re-paint and pin-stripe the perfectly good Norton-style tank to stay true to our original design brief – and so we could use the outrageously curvaceous RE winged brass badges on the tank.
And so we have it – Brass Rajah (or Prince). We hope you like it. In fact, we hope people like it enough to place an order for their own Mid Life Cycles RE350. Because the hardest part of this whole build has been to ensure that every step can be replicated cost-effectively to produce a limited series of practical, rideable and highly-desirable custom motorcycles, based on a timeless Royal Enfield Classic. Contact us for more information on how to order your own RE350.